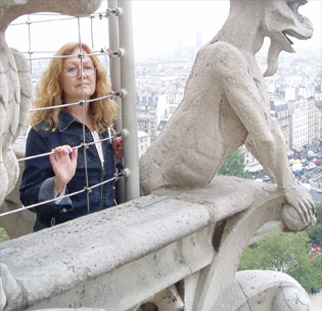 Cicily Corbett is a freelance writer, teacher, videographer, and book cataloger based in Springfield, Massachusetts. She lives and works in the Pascal Emory House, an 1871 Second Empire Victorian listed on the National Register of Historic Places.
Cicily has degrees from Smith College and Purdue University in history and English. She studied history at the Sorbonne, mixology at Boston Bartenders School, fiction writing at the University of Iowa, and is currently working on a degree in Electrical Engineering Technology from Springfield Technical Community College. She has a network administration license and is fluent in French and Farsi.
Cicily is an active member of the Society of Professional Journalists, the Veteran Motor Car Club of America, the Armoury-Quadrangle Civic Association, the Mattoon Street Historic Preservation Association, the Springfield Central Library Advisory Committee, the Wednesday Poets, the Downtown Book Ladies, and the Northampton Screenwriters Group. She is the corporate clerk of Open Pantry Community Services and former secretary of the Northampton Smith Club. Recipient of numerous writing awards, and grand prize winner of the 2008 Ashfield FilmFest, she is currently at work on a full-length feature screenplay.